Teach Bike Riding In 2 To 10 Minutes
Fastest, easiest, safest, greenest patented teaching process with scientific certainty
Reginald Joules, Principal
Ushar Enterprises Inc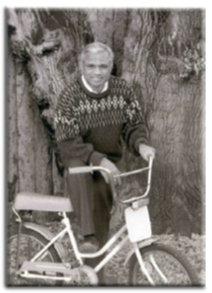 Pedal Magic was developed in the summer of 1984 by Reginald Joules, a Management/Decision Scientist, to teach his daughters how to ride a bike. They were 5 and 7 then.
The same night he taught his daughters to ride he also taught his wife to ride, all in a span of about 15 minutes. He had invented something that would have mass appeal but did not consider it to be a viable business idea at the time due to distribution barriers and other considerations.
By 1995 virtually every household in the US had video cassette recorders. Some people whose children Reginald had taught to ride with his technique encouraged him to produce and distribute a video of the Pedal Magic technique. In January 1996 Reginald hired Emmy and Telly awards winner Russ Ruffin to produce the video.
During the 1990's NBC Television Network was at its peak. The night before 1996 Tax Day consumer reporter and anchor Mark Koebrich at Denver NBC station did a feature report on Pedal Magic. That gave Pedal Magic major exposure to young parents in Colorado. Pedal Magic became a viable business overnight.
Later that year Pedal Magic received the honor of being runner-up in The Denver Business Journal's Most Innovative Colorado Products Awards. A local newspaper also ran a report that proved to be very helpful.
Internet was becoming a feasible channel of distribution for products and services by 1996 and Ushar Enterprises Inc successfully leveraged news reports, Denver Business Journal honor and glowing customer feedback to receive orders from national and international customers.
And more honors and news coverage followed...
1996 - The Denver Business Journal's Most Innovative Colorado Products Awards (Runner-Up)
1996 till 2015 - Pedal Magic customer endorsements (see emails in Feedback Stack)

Recommended by occupational therapists (sources: customer feedback and survey on order forms, 1996 - 2015. Now Vimeo does our order processing so we do not have close customer contact as in the old days. Please do feel free to contact us or leave your comments on our Vimeo page.)
Reports by Major News Organizations
Brief History Of Pedal Magic