Teach Bike Riding In 2 To 10 Minutes

Fastest, easiest, safest, greenest patented teaching process with scientific certainty


Reginald Joules, Principal
Ushar Enterprises Inc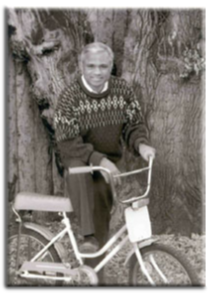 From Reginald Joules, June 2015
You might be wondering whether we woke up stupid one morning and decided to put Pedal Magic on YouTube so that people can freely watch it , teach it and disappear into the dark :)
Why else are we being so naive?
There is a method to our madness, logic behind our gullibility. Because Pedal Magic market went crazy on us.
We used to fool people into paying for Pedal Magic up front before unlocking it on their computers (just kidding).
That worked fine till 2010/2011 when a glut of free teach/learn-bike-riding videos began clogging the Internet.
They were all seat-of-the-pants methods, barely [:)] better than traditional run-alongside-the-bike method.
People no longer seemed to know the difference between Pedal Magic and all of the me-too methods and videos.
98% of visitors to our site were leaving without ordering because…
Why pay for Pedal Magic when other videos are free (all videos are similar and easy to make, you know)

Pedal Magic is a scam, too good to be true (praises and guarantee are fake, they are coming for our house)
What if Pedal Magic did not exist?
In the beginning…
From the very beginning in 1996 Pedal Magic's incredible strengths had also been its weaknesses.
No "competitor" who dove into our niche had created anything competitive for teaching bike riding. So they could only exploit people's disbelief.
They made proclamations confirming people's preconceptions. How could people know the truth unless they ordered Pedal Magic? Yet we did fine.
But many children who could have been taught to ride with Pedal Magic did not learn because their parents were easily deceived.
What is now…
It became clear that the 98% who leave will not know the truth about Pedal Magic and will never get to use it unless they see it in action first.
But if it is free to watch most will assume it is free to use. Sadly, even if we educate them many will not pay if their identity is unknown to us.
Our offer on your honor…
You are probably an honorable person who views me as a real person trying to earn an honest income by offering you a wholesome product.
Please try all free methods and guaranteed products. Nothing works? Consider what you were willing to spend to help your child learn to ride.
Watch Pedal Magic for free. If you use it to teach/learn bike riding please pay us a usage fee of any amount that seems right to you. Even $2.00!
However, if you think you are entitled to use Pedal Magic since we did not make you pay first to watch the video, I am sorry I wasted your time.